Regular price
Rs. 499.00
Sale price
Rs. 399.00
Unit price
per
Sale
Sold out
Share
Introducing Wonderfill Air Pressure Compressed Air Duster Cleaner 250g: Precision Cleaning for the Digital Age
Embrace a new era of meticulous cleanliness with Wonderfill Air Pressure Compressed Air Duster Cleaner 275g – an unparalleled solution designed to revolutionise the IT industry. This unique product combines the power of an air blower with precision cleaning capabilities, creating a must-have tool for anyone seeking to maintain optimal performance and longevity for their electronic devices.
Air Blower Excellence, Unleashed
Wonderfill Air Pressure Compressed Air Duster Cleaner 275g is not just an ordinary cleaning tool – it's an air blower with a purpose. Engineered to perfection, it effortlessly removes dust, dirt, grime, lint, and even hair from hard-to-reach places. Be it keyboards, electronic circuits, assemblies, circuit boards, corners, or complex and delicate components, this tool is your gateway to pristine cleanliness.
Enhanced Performance, Revitalised Devices
Unveil the hidden potential of your devices with our Air Duster Cleaner. As dust accumulates over time, devices' efficiency can be compromised. This remarkable product not only eradicates dust but also removes the magnetic charge that accumulates on circuits. By doing so, it reinvigorates your gadgets, ensuring they perform optimally and extend their lifespan.
Perfect Companion for Hardware Servicing
Wonderfill Air Pressure Compressed Air Duster Cleaner 275g doesn't stop at routine maintenance. During hardware servicing, it emerges as an invaluable asset. The delicate precision of this duster ensures thorough cleaning without physically touching the sensitive areas. This means you can service computers and gadgets with utmost confidence, knowing that every nook and cranny will be restored to its pristine state.
Safety Precautions, Superior Net Content
While Wonderfill Air Duster Cleaner 275g is a tool of excellence, it's essential to exercise caution. As with all aerosol sprays, it contains flammable compressed gas. Avoid spraying near naked flames and use it in well-ventilated areas to ensure safety. With a generous net content of 250g, you have ample supply to tackle your cleaning tasks.
Elevate Your Cleaning Regimen
Step into the future of cleaning with Wonderfill Air Pressure Compressed Air Duster Cleaner 275g. Witness the transformation of your devices as they regain their vitality. With the power of an air blower and precision cleaning in your hands, maintaining your IT equipment has never been this effective or effortless.
Choose Wonderfill and experience a new era of precision cleaning and device optimisation. Embrace a cleaner, more efficient digital world today.
View full details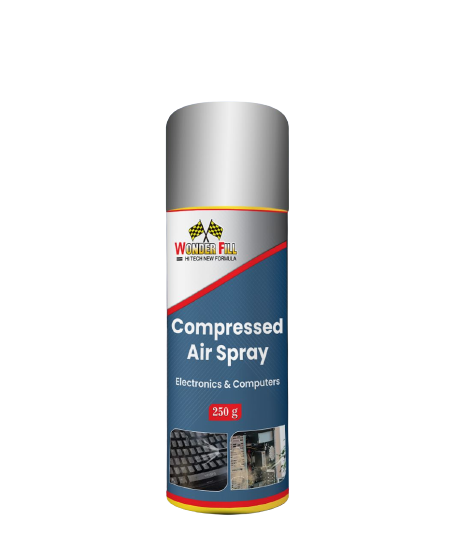 Good product
It is fantastic, everyone must use ✨🙌
Works Fantastically!! Very Good Product
Good product
It is fantastic, everyone must use ✨🙌
Works Fantastically!! Very Good Product
Good product
It is fantastic, everyone must use ✨🙌
Works Fantastically!! Very Good Product